The funniest Settlement names (so far)
Here at 8Realms Towers, we weren't quite prepared for the range of clever, funny, and downright odd Settlement names that our Closed Beta testers are choosing. In this special post, I'd like to present the 8 Settlement names that gave us the biggest chuckles.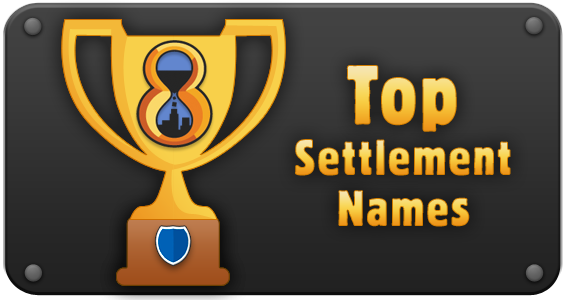 Appropriate at number 8, we have ATErealms. We can only assume that its owner, MyAltCharact, was feeling peckish while picking this name. Maybe you shouldn't play 8Realms on an empty stomach.
At number 7, we have another food-related name: Assassinaded, named after its creator. I'd love to know the thought process behind this one, but I like to imagine a renegade chef assassinating someone with a marinade. Lemon juice, olive oil, garlic, thyme and - arsenic? Sadly, we don't have poison in 8Realms, but maybe we should.
Something else we don't have in 8Realms: dinosaurs. And yet, at number 6, comes Ravaging Dinosaurs, founded by player Connector0. We hope Connector0 wasn't too disappointed to find that the Ancient Age isn't quite that ancient.
Besides murder and dinosaur themed names, we've seen a number of real place names in 8Realmsso far. At number 5, we have Darkness5308's Soviet Russia - where city settles you!
But for distinctly fictional place names, we've awarded fourth place to Dxrulez4's forward-thinking Settlements The 9th Realm and - wait for it - The 10th Realm. Smart subversion or vote of confidence in the future of 8Realms? You decide.
In third place, we have Warrior Hymn's Victimville. Such defeatism! Careful, Warrior Hymn, you don't want that to become a self-fulfilling prophecy.
Second place goes to Kathrynb17's splendidly-named Fort Von Wiggletonmania. Sounds like a fun place to be! (I just discovered that Wiggleton is a real-world surname, which is all kinds of awesome.)
And lastly, our number one funniest Settlement name is - wait for it -
Precarious Hatstand! Which I admit was bizarre enough to make me laugh out loud in the office. Congratulations, Fredpipe.
To everyone mentioned, thank you for raising a few laughs around the 8Realms team. In that vein, I feel an honourable mention has to go to Facestab Extravaganza, one of Mod Cloud's gruesomely-named Settlements during our internal testing phase. I think goes to show that we're having as much fun making 8Realms as our Closed Beta testers are having playing it.
We're still keeping an eye on all your Settlement names, so don't worry if you weren't featured today. If you expand to a well-named Settlement in the near future, you might just see yourself here next time. But be warned, you'll have to be particularly clever or witty, because - get this - we just won't settle for anything less!
(Sorry.)
Gabriel
8Realms Wordsmith