The 8Realms Barbarian battle is over!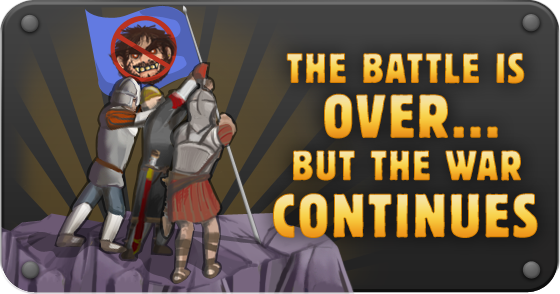 Closed Beta testers,
Wow, what a weekend. The 8Realms developers and I have been poring over the stats from Operation Barbarian Retribution, and it's fair to say we're very impressed at some of your efforts.
But first, allow us to thank everyone who took part in the event. Not only was Operation Barbarian Retribution fun for everyone who took part (including a fair number of us here at 8Realms Towers), but it provided us with a lot of information that we can use to improve the game. To all our Closed Beta testers, thank you! It's your contribution that's helping us to make 8Realms the best game it can be.
And now on to the stats:
For Genghis Khan, the overall Barbarian basher was empire Pkers, with a whopping 81,225Barbarians slaughtered in 468 separate attacks. We have to admit, this figure raised quite a few eyebrows here in the office. Counting all players over all 10,408 battles, a grand total of 1,152,179 Barbarians were killed - of which just over 7% were killed by Pkers! All we can say is congratulations, sir: what an amazing job.
Here's the full top-ten list of Genghis Khan's mightiest empires this weekend:
| | |
| --- | --- |
| Empire name | Barbarians killed |
| Pkers | 81225 |
| Harmonic Ocean | 52357 |
| Dainon | 50837 |
| Only The Best | 41036 |
| Regnum Humilis | 31906 |
| Starlight | 30067 |
| Rockarder | 26521 |
| Manetheren | 25378 |
| Yuktovania | 22973 |
| Dark Imperial | 18952 |
The most pain-averse empire on Genghis Khan was Torpid, with 12,932 Barbarians killed and no losses whatsoever. Impressive stuff - here's an empire that cares about its army's health and safety!
Concluding Genghis Khan's stats, the booby prize goes to empire Physcoville, who killed 587 Barbarians - but lost 3256 troops in the process! Oh dear, Physcoville: we'll be sending emergency supplies of chicken soup and fruit baskets direct from 8Realms Towers to help your army recover.
And now, Julius:
For Julius, the most prolific Barbarian killer was empire Byzantium, with 17,728 Barbarians slaughtered. Good stuff, Byzantium!
The title of most aggressive empire on Julius goes to The Indecisive, who stormed to a rather decisive victory over the Barbarians with 116 successful attacks. And the most pain-averse was The Empire of the Flames, who managed to kill 4066 Barbarians without suffering any losses whatsoever.
Here's Julius's top-ten list in full:
| | |
| --- | --- |
| Empire name | Barbarians killed |
| Byzantium | 17728 |
| EmpireOfDreams | 13064 |
| Kingdom of Bozo | 7025 |
| The Indecisive | 5427 |
| The Empire of the Flames | 4066 |
| Rivendell | 4004 |
| PeasantLand | 3364 |
| Know It or Die | 3216 |
| Geektopia | 3175 |
| Alera Imperia | 3086 |
Finally for Julius, the booby prize goes to empire Yuma, who killed 111 Barbarians but suffered massive losses - with 2512 troops slaughtered! Ouch, Yuma, sounds like you should share some of Physcoville's chicken soup. :-)
Well, this has been a fantastic event to watch, and we hope you've enjoyed taking part. To those of you who haven't quite won a mention today, stay tuned - there will be plenty of opportunities to make your mark in the future. And to all this weekend's victors: the battle may be over, but the war is yet to be won! Keep your guard up and your armies fighting fit, or risk being usurped in the battles to come...
Once again, thanks to you all. Stay tuned to 8realms.com for future events, and see you on the forums!
Gabriel
8Realms Wordsmith