Cooking an Agile 8Realms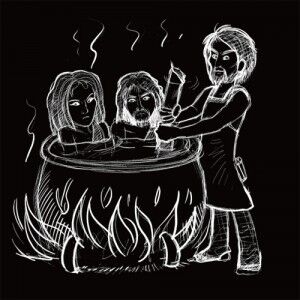 Thanks for wanting a taste of 8Realms. We want to give you an insight into our process through this blog.
Making a game is such an awesome, fun process, but it's a hard one too. Last year, around Halloween, we tasted the stew cooking in the 8Realms pot and didn't like the taste. It just wasn't cooked. It needed some reworking. We realised that our cooking method needed some bashing as well.
It was at this point we adapted what is called Agile software development - more specifically, SCRUM.
When making a game, you have several massive piles of requests and input: the original vision and design pile, the company pile, the team pile, and the fan pile. From these piles you need to take ideas, feedback and input and work them into the game, all the time maintaining a core vision and creative direction - and delivering to deadlines.
Using the Agile method we've adapted, the Producer (Mod_Rourke) and the Lead Designer (that's me) take the piles and prioritise them. Then every two weeks we take things off the top of the piles and get them in the game, finished and tested. Then we show it to everyone involved, get feedback and adapt from there.
This allows us to move fast, adapt to change and predict when we will finish work, meaning we can commit to deadlines with a lot more confidence than before. What most excites me, and the team, is that after the Beta and post launch we will have a new pile. That pile is your feedback, which we can then act on and turn around in two or four weeks if it's top of our pile.
So, back to the question: What is 8Realms? Well, it's not War of Legends and it's not Age of Empires, the two most common guesses you guys make ;. It's an online empire building game, on a large scale, with many other players in your world. It runs in the browser without plug-ins, and is based around competitive play for the discerning gamer. It's a game where a play session can fit into lunch, on the bus or when you have a moment, growing your small settlement into Glorious Dominion.
Every post after this one will be talking about part of the gameplay, art or technical challenges. The reason we don't put it all out there is that it's still cooking. The pot is bubbling and we are throwing in loads of ingredients. Just last week Mod_ThatJim and I threw in the equivalent of a crate of Turkish Delight. We also know we will be adding more sweets, puddings and side-dishes to the game post launch.
'Til next time.:)
Mod_Kimau
Lead Designer