8Realms dev blog - Brick by Brick
Hi everyone,
We'd like to give you some insight into some of what we've been doing to improve 8Realms's graphics whilst you've been playing the Closed Beta. The heart of the game is construction, so we've been focusing on improving the appearance of the buildings. We've looked at three main areas:
Architecture
We reviewed each Age in order to improve the architectural language to match the period of time better. The three key aspects that make up a building are materials, building type and period style.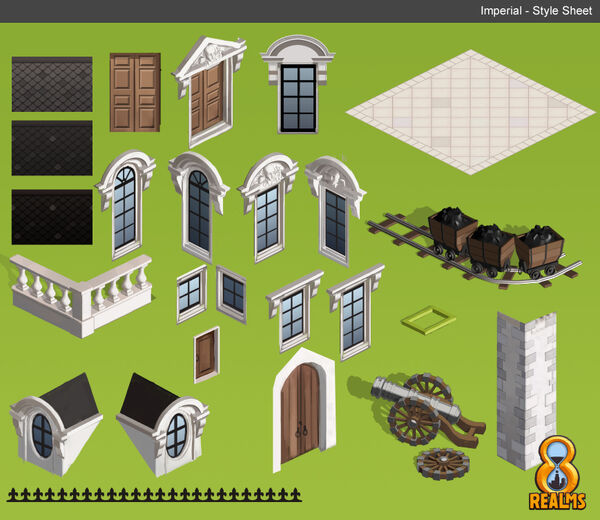 This involved improving building parts such as floors, roofs, windows, doors, columns and so on, to reflect the Age that they appear in. In real cities there are no strict borders between architectural periods, transition phases, revival styles and material advancements; they all overlap.
We took our researched architectural themes, simplified them and identified what we felt were the most important features. We created a style sheet for each Age in order to define how each period's architecture should look.
The Classical Town Centre is a good example of where we have improved the architectural language. We've added improved columns, roof tiles, meanders, statues, cypress trees, floor tiles and a portico.
Purpose
Where necessary, we have adapted certain buildings to visually clarify their purpose. This involved swapping buildings around, making structural changes, adding objects and set pieces, and creating a stronger visual narrative.
The Imperial Coke Furnace. We've added things like piles of coal and carts, and made a more obvious furnace for burning the coal to visually communicate what the building does.
Consistency
We've focused on improving the visual consistency of the buildings across the Ages. We identified areas where the style of the architecture was not quite right, or the scale was a little off. We've gone through tweaking and improving certain buildings to fix this.

The Feudal Watchtower, an example of a complete replacement for consistency. We've re-made this building so it's sharper with improved battlements.
Naturally, we've had a strict production time frame to work within, and however much we artists would like to spend time on assets, we hail at the altar of the deadline. So prioritising the most important improvements into a realistic development schedule dictated how much we could do.
You'll be seeing these changes soon in the game. Overall, we hope that 8Realms will feel more consistent and pleasant to look at, without drawing attention to itself.
Cheers,
Mod Vega and Pete