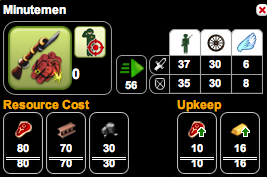 Minutemen
are
durable infantry
Imperial Age
units. They replace the melee units in defensive capability and support
cavalry
.
Minutemen can be supported by Grenadiers for extra damage.
They otherwise have no variants.
They have an elite version called Minutemen+.
Minutemen were introduced into the game after the Beta release and reuse their icon. They would have had the highest research requirement along with Grenaders with a Level 7 University.