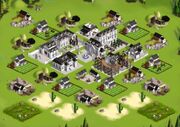 The
Imperial Age
follows the
Renaissance Age
as the fifth age in the game. In this age
Wood
is replaced with
Coal
.
At the beginning coal is very scarce from Coal Pits (only 15/h), so it is better to capture a coal resource tile or to raid a sufficent number of them (coal is gathered from wood tiles). Another notable factor about Imperial Age is how long it takes before you can build a new settlement: you have to research and upgrade to City Centre, then research and build Apartment to further upgrade City Centre, which unlocks higher level University, where you need to research several topics before you are allowed to research Governance.
The good part is that you can demolish your Logging Camps and build more buildings. A Stone Mason may be a good idea due to the large amounts of stone you will need.
New buildings:
Edit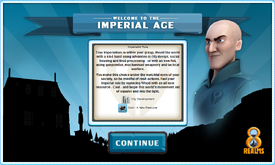 Apartment
Processing plant
Academy
Factory
Gunsmith
Watchtower
Coke furnace
Military Units:
Edit
You also get the first musket/cannon units (see Musketeers, Cannons). During the Renaissance ages, the first European gunners were called Arquebusiers, and used one of the first simple muskets, the Arquebus. These muskets had limited range and firepower, but through years the muskets improved. In 8Realms, however, gunmen are still unavailable in the Renaissance age.
Imperial Wonders
Edit
Benefit(s):
Boosts capital resource generators by 30%
Benefit(s)
Boosts population by 25% empire-wide.
Benefit(s)
Currently in development.
Benefit(s)
Benefit(s)
Reduces building resource requirements by 10%
Benefit(s)
Increases capital culture rate by 10%
Benefit(s)
Reduces Iron Building costs by 25%
Community content is available under
CC-BY-SA
unless otherwise noted.