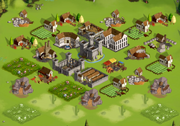 Feudal Age is accessible after building your second Wonder in the Classical Age. This age requires more resources to build/upgrade buildings, especially, wood. Of note that it is in this age that the major stone researches take place: 'Stone mason' and construction on Hills. And a couple new buildings.
Military troops:
Edit
In this age, you can unlock 12 military units through research. 3 of them are melee units, 3 are ranged units, 3 are cavalry and the remaining 3 are artillery units.
Melee Units:
Edit
Ranged Units:
Edit
Cavalry Units:
Edit
Artillery Units:
Edit
New Buildings
Edit
This age also lets you construct a few new buildings. Those buildings are:
(Please click here to see all the researches of Feudal Age.)
Below is a list of wonders available for construction to advance to the Renaissance Age.
Benefit(s):Edit
Provides access to Bombadier Unit.
Improves artillery attack by 15%.
Benefit(s):
Provides a research queue slot.
Benefit(s)'Edit
Reduces the frequency and ferocity of Barbarian attacks.
Benefit(s):Edit
Improves your population's mood.
Benefit(s):Edit
Benefit(s):Edit
Unlocks higher tax rates.
Benefit(s):Edit
Allows change of society once per age.
Community content is available under
CC-BY-SA
unless otherwise noted.